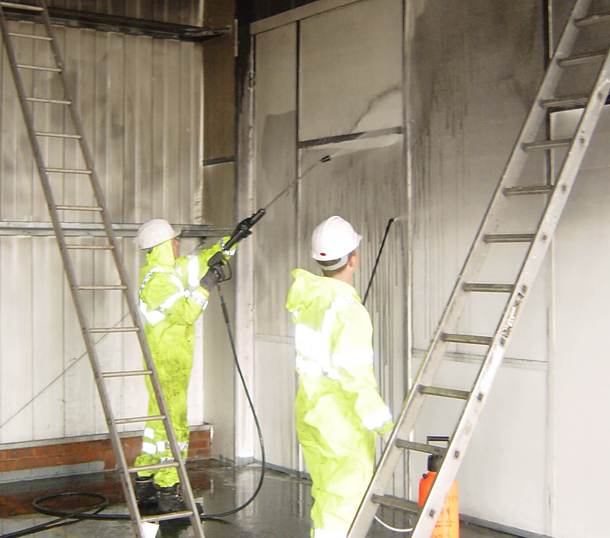 J & B Smoke and Odor Control Services
Cleaning and Restoration Services You Can Trust!
While fire damage can be obvious, smoke damage often gets overlooked in its severity. After a fire, the damage can go far beyond the reach of red-hot flames. Smoke can cause massive damage to your property and put your entire family at risk of serious health concerns. Smoke and odor damage can be incredibly disheartening. 
J & B Cleaning is here to help! We offer smoke and odor control services to help you restore your home fast after a fire. We also offer commercial services for business owners who have recently suffered fire damage but are not left with stubborn smoke odors. And we will work with your insurance adjuster to expedite your claims process and begin restoring your home as soon as possible. Our service area extends from Manhattan to Montauk, centralized in Nassau and Suffolk counties.
Common Causes of Smoke Damage
When a fire occurs, the damage is broken down into two main categories: primary and secondary. At J & B Cleaning, we tackle both. Our fire damage restoration service handles the immediate damage caused directly by contact with flames. Our smoke damage restoration and odor removal service tackles damage associated with smoke, gases, corrosive substances, and other secondary factors of the initial fire. In many cases, the secondary damage to one's property is more significant and deadlier than the primary fire damage. 
Smoke damage can come in many forms. In some cases, your property may be suffering from multiple types of smoke damage. A trained technician from J & B Cleaning can quickly assess which kinds of smoke damage your home has sustained. Each type of smoke damage originates from different sources. The materials burned in the fire, the source of the fire, and the temperature of a fire can all be factors in which types of smoke damage your property will sustain. As a result, each type of smoke damage needs to be treated uniquely to thoroughly remove all traces of smoke odors.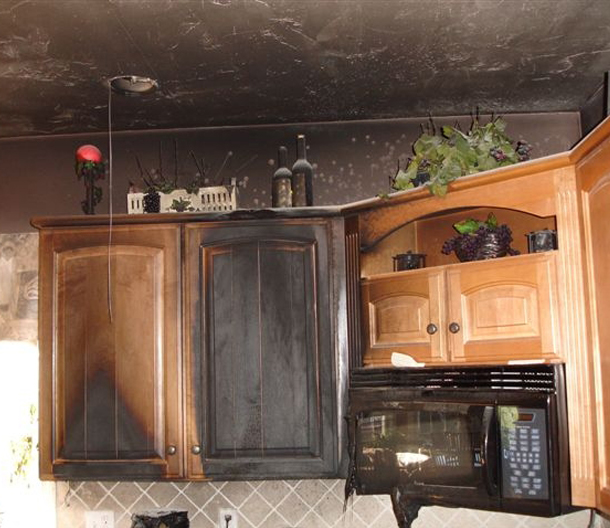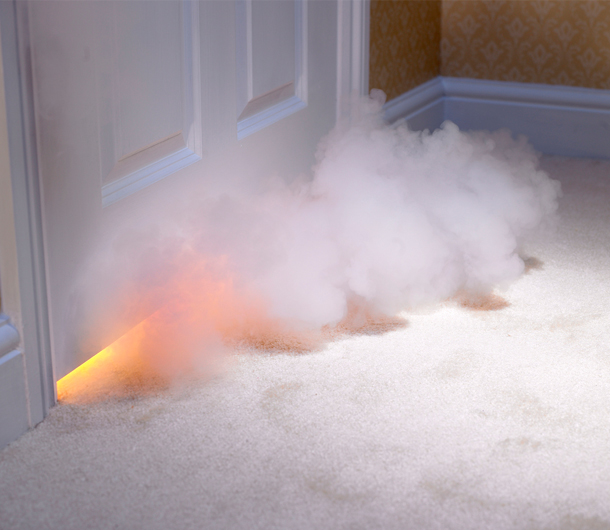 First, there is dry smoke damage. This usually occurs in fast-burning fires with high temperatures fueled by dry materials. Dry material that might lead to dry smoke damage includes paper or wood. Luckily, this is one of the easier types of smoke damage to remove. It is not sticky or dense, and the smell is usually not as potent as other types of smoke damage. However, it can infiltrate all of your home's porous surfaces quickly. J & B Cleaning has the right tools to tackle dry smoke damage and odor removal. 
Typically, wet smoke damage is caused by plastics, rubber, and flammable materials and produces a thicker, stickier smoke. Usually, wet smoke has a more intense acrid smell and appears darker. While all smoke damage is hazardous for your health, wet smoke damage can be more dangerous because of the residue it carries from burned materials that fueled the fire. Wet smoke tends to smear when cleaned, so it takes the proper training and most advanced smoke and odor control equipment to completely remove it from your property. 
Smoke Damage from Protein Residue
That gooey substance left over after a fire might be protein residue smoke damage. These fires usually occur at lower heat and leave organic material residue behind after they evaporate. It can be deceiving because damage often appears minimal, but is actually quite significant in these cases. It can quickly discolor all surfaces in your home, including paint and wallpaper, and ruin personal belongings. Its smell is sooty and unpleasant. 
Another hazardous type of smoke damage residue is caused by oil or fuel fires. This is more common in commercial settings where petroleum-based products might ignite a fire accidentally. This is one of the most troublesome types of smoke damage and odor control to handle. It is incredibly dense. It can seep into every nearby surface, including flooring, carpeting, textiles, walls, and all types of fabrics. Over time and without proper cleaning, the smell will become even harder to remove. In addition, it is one of the most harmful smokes to breathe since it contains fuel particles. 
Health Risks Associated with Smoke Inhalation
Fire alone can be dangerous to your health, but smoke inhalation is even more threatening. If you were near a fire at all, it is wise to have a medical checkup as soon as possible. Smoke inhalation can lead to both minor and significant breathing problems, especially among vulnerable populations with preexisting conditions like asthma, COPD, or even the common cold. Additionally, pregnant women, children, and the elderly are more at risk of the danger of smoke inhalation. Harmful smoke can even build up in the lungs, leading to lung cancer.
Furthermore, there could be deadly microscopic particles in the air you're breathing that cause a variety of issues, ranging from a runny nose to aggravated chronic heart and lung disease. These tiny particles are not even visible, but they have the power to cause hospitalization, lifelong health problems, and even death.
Smoke Damage and Odor Control Services Backed by Certifications
At J & B, we understand that smoke damage and odor control are not taken lightly. This is why we continually invest in the most comprehensive and reliable technicians and equipment to keep your family safe. We also take great pride in our 100% satisfaction guarantee, backed by certifications that prove we put our clients' needs first. 
Our certifications and highly-esteemed memberships include:
The Institute of Cleaning and Restoration Certification (IICRC) 
Advanced Clean Driving Innovation (ISSA)
Global Biorisk Advisory Council (GBAC) 
Bacti Barrier authorized applicator
Mold Inspection, Consulting, and Remediation Organization (MICRO) 
Indoor Air Quality Association membership
Better Business Bureau (BBB) accredited
Don't let the threat of deadly smoke damage and stubborn smoke odors take over your life. Contact J & B Cleaning for family-owned and operated smoke damage and odor control services. We are conveniently located in Nassau and Suffolk counties, New York, and we service surrounding areas from Manhattan to Montauk. 
Contact us more for information about our services. 
Phone: 631-698-4913
Toll-Free: 888-666-1496
Fax: 631-732-4053
Email: info@jandbcleaning.com