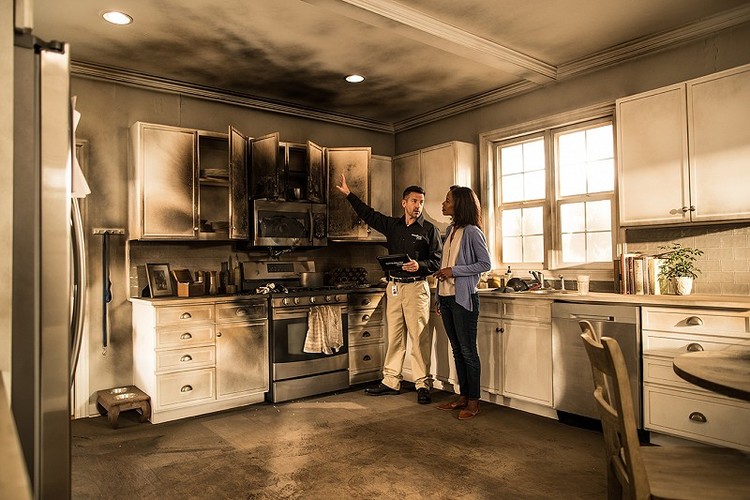 J & B Fire Damage Restoration
Cleaning and Restoration Services You Can Trust!
Fires can be devastating to your property. In the aftermath of a fire, your top priority should always be to ensure everyone is safe. However, the second most important thing to do after a fire is to contact J & B Cleaning and Restoration for fast fire damage restoration services. 
In such a short time, fires can cause catastrophic damage to even the most fire-proofed of properties. 
However, fire damage to your property can be solved the right way with J & B Cleaning's trained fire damage restoration experts. Every technician we employ is accredited and trained to act fast. Our fire damage restoration services stretch from Manhattan to Montauk, centralized around Nassau and Suffolk counties in New York.
If your home has recently suffered a fire, we are here to help. At J & B Cleaning, we provide fire damage restoration services 24/7 for your convenience. We will even handle the insurance claims process by working one-on-one with your insurance adjuster to tackle your claim quickly. 
Fires can cause different degrees of damage. A minor fire might be contained to one region of your property or even one room in your home. However, larger fires can engulf your entire home, causing irreversible damage in an instant; without professional help, cleaning up after even the smallest of fires is challenging. 
In the aftermath of a fire, you have more significant issues than just the initial fire damage. Smoke, soot, and even water damage from extinguishing the fire can all result from the initial inferno. In some cases, extensive demolition is required to begin the process. Compromised structural integrity should never be taken lightly after a fire. 
J & B Cleaning can help you with every aspect of your fire damage restoration procedure. We never leave you to tackle these difficult times alone, and we'll assist in every way possible.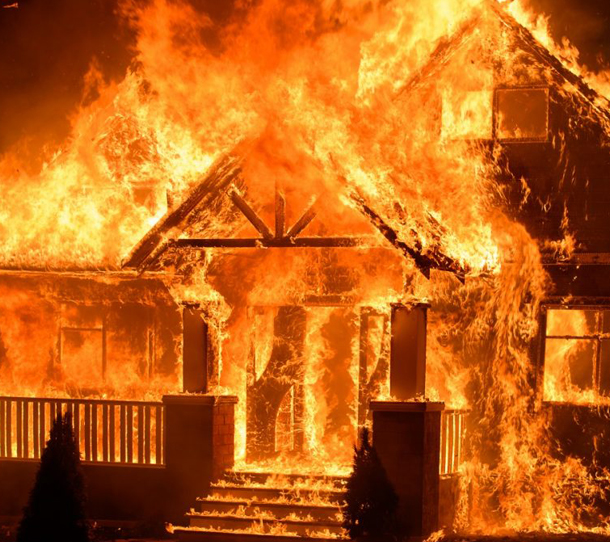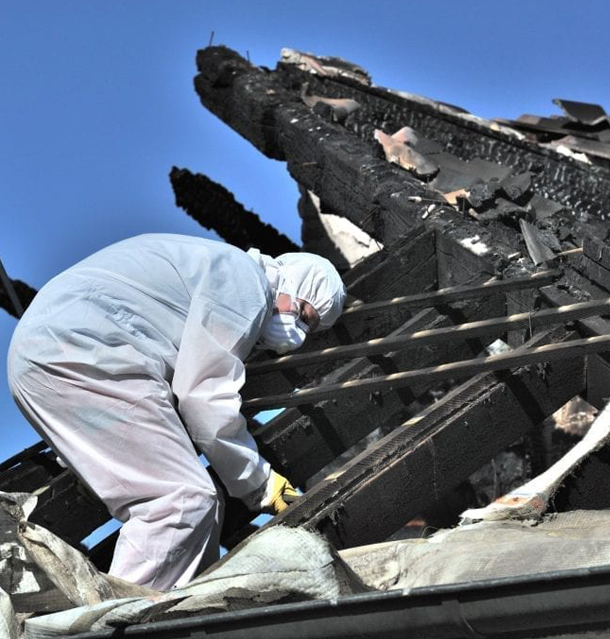 There are many common causes of fires. Sometimes fires can be prevented by knowing what you can do to avoid those risks. Because of this, we want to share some of the most common causes in-depth to help you protect your property from dangerous fires in the first place. 
Kitchen fires are frequent since this is an area of the home where open flames are often used. Most people use their cooktop or oven multiple times a day, increasing the risk of fire hazards. When cooking, always make sure that you are using proper procedures and fire-safe actions. Open ranges provide the most significant risk for fires because of open flames. Never add water to a grease fire, as this will make the fire worse. Never leave cooking food unattended or other products near open flames. 
Christmas lights can be extremely hazardous when they contact dried and withering Christmas trees. Given the right conditions, overheated lights can quickly ignite dry branches and cause a fire that will spread fast. Always check electrical wiring and turn the lights off when you are not at home. Also, make sure to remove your tree when it begins to dry out. 
It is no joke that young children or curious pets cause many home fires. Children don't always understand the hazards around them, and pets are entirely unaware of the consequences of their actions. Over 7,100 fires are accidentally started every year by small children. Teaching children about fire safety is one way to help avoid these fires. It is also important to keep flammable substances out of reach of children or tucked away safely. Pets should never be allowed near open flames. 
We rely on our appliances to make our lives easier, but everything literally can go up in flames when they malfunction. Regular inspection of your appliances can help alleviate the chances of a fire starting due to malfunction. 
Many types of fire damage can occur on your property. The degree of damage caused by a fire can depend on the initial cause of the fire, location, materials exposed to the fire, and a variety of other factors. The two main types of fire damage are divided into primary and secondary damage. J & B Cleaning can help you with both types of fire damage restoration fast!
This refers to any damage that occurs because of direct contact with flames. 
Secondary damage is any further damage that occurs due to smoke, gases, and other flammable substances released after the fire.
Health Risks of Fire Damage
The problem with fire damage is that hazards go beyond damaging your property. Your health could be at risk as well. Burns are a common hazard with fires. Smoke inhalation is also a significant concern. Harmful smoke can lurk in your lungs, cause breathing problems, and contribute to the development of lung cancer. Additional problematic issues can include trouble breathing, runny nose, dizziness, and headaches. 
If your home does sustain structural damage, your entire family could be at risk. It is never a good idea to re-enter your home after a fire unless it is deemed safe to do so. In worst-case scenarios, your entire home could be close to collapse after a fire. 
Individuals at higher risk of medical problems due to fire damage include the elderly, children, infants, pregnant women, and people with preexisting medical conditions.
Never try to tackle your fire damage restoration yourself. Always call J & B Cleaning, where we have the safety training, equipment, and knowledge to properly assess your fire damage.  
Our Fire Damage Restoration Services
At J & B Cleaning, we will work to restore your home the right way. With over 40 years of experience under our belts, we can tackle fire damage restoration fast. We will begin our detailed inspection of your home to assess the damage, create a plan of action, and work with your insurance adjuster. 
 Next, we begin our detailed restoration process. We demolish any damaged areas, extract any harmful chemicals and smoke, and work tirelessly with odor removal procedures using the best technology, equipment, and training. Lastly, we will leave your home thoroughly sanitized, removing any hazards of contamination.
You can count on our services at J & B Cleaning, where we always strive for the highest level of customer service. We even offer a 100% satisfaction guarantee. Furthermore, we aim to make your fire damage restoration process affordable, efficient, and hassle-free. 
Fire Damage Restoration Services Backed by Certifications
At J & B, we also take great pride in our numerous industry-leading certifications. 
Our certifications and highly-esteemed memberships include:
The Institute of Cleaning and Restoration Certification (IICRC) 
Advanced Clean Driving Innovation (ISSA)
Global Biorisk Advisory Council (GBAC) 
Bacti Barrier authorized applicator.
Mold Inspection, Consulting, and Remediation Organization (MICRO) 
Indoor Air Quality Association membership
Better Business Bureau (BBB) accredited
At J & B Cleaning, we are more than ready to help you tackle your fire damage today! Located in Nassau and Suffolk counties in New York, family-owned and operated, and offering 100% satisfaction guaranteed, we have it all. Contact us more for information about our services. 
Phone: 631-698-4913
Toll-Free: 888-666-1496
Fax: 631-732-4053
Email: info@jandbcleaning.com