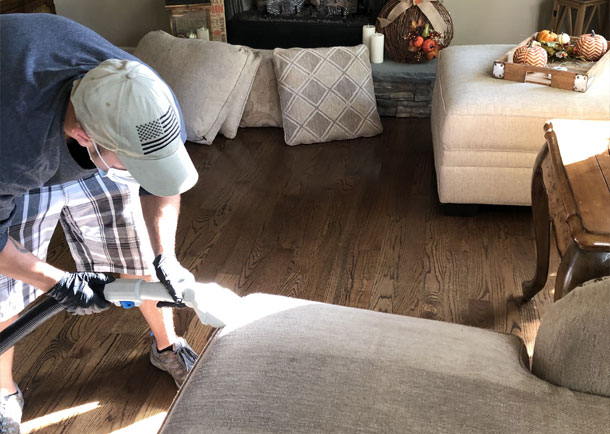 J & B Upholstery Cleaning Services
Cleaning and Restoration Services You Can Trust!
Clean upholstered surfaces can make your home or your office feel like a welcoming environment. However, maintaining clean upholstery without the help of a professional can be challenging. Upholstery requires precision and the proper cleaning methods to stay in good shape. 
For over 40 years, J & B Cleaning has provided Nassau and Suffolk counties and surrounding areas in New York with exceptional upholstery cleaning services. Our service areas span from Manhattan to Montauk. We even offer 24/7 emergency service, and we can work with both residential and commercial clients. 
Professional Upholstery Cleaning from
All types of upholstered furniture need to be treated with the utmost care. Regular cleaning from J & B's highly-rated upholstery service is the best way to ensure that your pieces will last a lifetime. 
Regular cleanings can be anywhere from every few months to every six months. Twelve months is the maximum time recommended to go between upholstery cleanings for optimal results and cleanliness standards. Places of business should prioritize establishing a regular upholstery cleaning schedule for the health of their customers and employees. 
While consistent vacuuming is an excellent start to a clean home and healthy upholstery surfaces, it doesn't go far enough to sanitize your upholstery and remove allergens.Spot cleaning also fails to reach beyond the surface. Over time, dirt, lint, pet dander/fur, and other particles become deeply embedded within the fibers of your upholstery.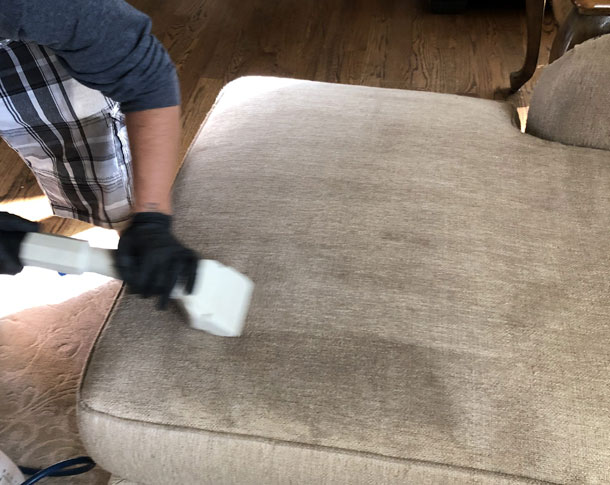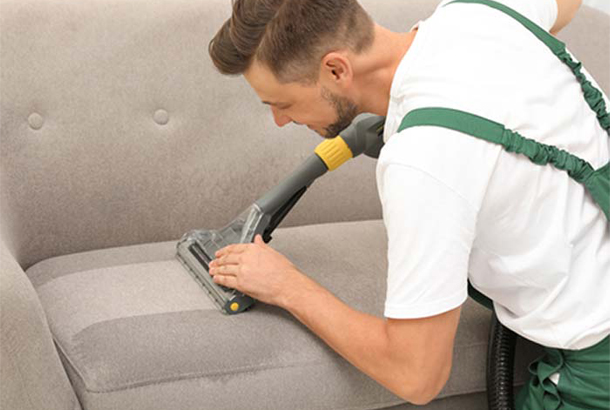 As a result, stains, allergens, and unwanted odors can accumulate. Common odors that form around furniture include wet, musty smells, sweat, and lingering food odors. Also, upholstery can also become worn down and discolored with age and improper care. 
Upholstery Replacement Versus Cleaning
Many people think that dingy-looking upholstery needs to be replaced. While you can use furniture reupholstery, it is an expensive process. Fabrics look dull as they gather dust and age. However, this isn't an indicator that your upholstery needs to be replaced. Instead, it's a clear sign you are ready for deep cleaning. Once your upholstery is cleaned, it can look as good as new. As a result, you can extend the life of your furniture, save money and only replace upholstery when it is truly at the end of its life. 
Health and Wellness With Upholstery Cleaning
As with any surface in your home, improper care can lead to issues with your health and wellness. In a business setting, peoples' health is affected by their environment. As an employer and business owner, you must provide a healthy environment for individuals to work and interact within. 
If you have pre-existing allergies or asthma, additional exposure to lingering allergens in your upholstery could make matters worse. Furthermore, pregnant women, children, and elderly individuals could be more susceptible to the effects of built-up allergens in upholstery. 
When allergens are allowed to reside in your upholstery, they can affect overall air quality and circulate through buildings to exacerbate the problem. Don't make your furniture a danger zone for headaches, dizzy spells, asthma and other breathing issues, allergies, and so much more. Protect your family or place of business today by contacting J & B Cleaning. 
Our trained and fully insured technicians only use safe products for your upholstered surfaces. Our products will help prolong the life of your upholstery without discoloring or fading.
Learn the difference that cleaning from J & B can make for your entire property today! With our upholstery cleaning service, your whole home or office will be breathing fresher, cleaner air in no time. 
Comprehensive Upholstery Cleaning with J & B
At J & B, we offer comprehensive residential and commercial upholstery cleaning services. First, we meet with every client to discuss their upholstery cleaning needs. We know how to deal with upholstered surfaces of all types, colors, and fiber lengths. With this information, we will create a personalized plan of action to ensure you are getting the best service. 
Next, we will bring in our trained and highly-rated technicians to begin cleaning your upholstered surfaces immediately. Our professionals use specialized products to remove stains and restore life to your upholstery. At J & B Cleaning, we use safe products to pull out the allergens and leave your air fresh. We even offer 24/7 emergency services, so you can count on us anytime! With our streamlined process, you get clean upholstery, sanitized surfaces, and peace of mind in one convenient and affordable package. 
We can even work with your insurance adjuster during your claims process if your upholstery sustained damage in a recent home disaster, like water, fire, or smoke damage. 
Upholstery Cleaning Services Backed by Certifications
J & B always stands for the best service you can find across New York. Therefore, we have the proper certifications and highly-acclaimed memberships to back up our service. 
Our certifications and highly-esteemed memberships include:
The Institute of Cleaning and Restoration Certification (IICRC) 
Bactibarrier authorized applicator
Advanced Clean Driving Innovation (ISSA)
Global Biorisk Advisory Council (GBAC) 
Mold Inspection, Consulting, and Remediation Organization (MICRO) 
Indoor Air Quality Association membership
Better Business Bureau (BBB) accredited
Contact Us for J & B Upholstery Cleaning Services
J & B is ready to help you with your cleaning needs today. We are based in Nassau and Suffolk counties in New York; our service areas stretch from Manhattan to Montauk. We are entirely family-owned and operated, with 40 years of experience under our belts. 
At J & B, customer service is always at the heart of what we do. Therefore, you get more than just healthy upholstered surfaces when you invest in our cleaning services. You also get friendly service, knowledgeable staff, and helpful tips for keeping your home clean every day for an affordable price. Contact us for more information about our services. 
Phone: 631-698-4913
Toll-Free: 888-666-1496
Fax: 631-732-4053
Email: info@jandbcleaning.com