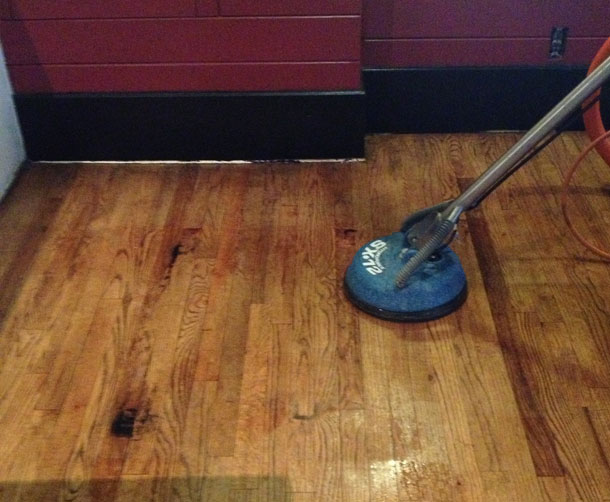 J & B Hardwood Floor Maintenance Cleaning Services
Cleaning and Restoration Services You Can Trust!
Have your hardwood floors lost their shine? Over time, hardwood floors can become dull, scratched, marred, and bleached by sunlight. The only way to properly extend the life of your hardwood floors is with regular hardwood floor maintenance care. Investing in maintenance services can help keep your hardwood floors pristine and naturally beautiful. 
Don't let the time you spent choosing suitable hardwood floors go to waste. J & B Cleaning has provided reliable hardwood floor maintenance across New York for the past 40 years. We serve areas from Manhattan to Montauk. We even offer 24/7 emergency service and can work with both residential and commercial clients. 
Hardwood Floor Maintenance with
Caring for your wood floors will extend their life and protect your investment. At J & B Cleaning, our detailed hardwood floor maintenance procedure helps ensure your floors won't become discolored, damaged, or dull over time. 
Hardwood floors require several precise maintenance protocols. Most hardwood flooring is installed with a wax coating. Over time, the wax can rub off and needs to be replaced. However, adding too much wax can create uneven buildup and make the flooring appear fake and glossy. It takes a knowledgeable hardwood floor team to apply new wax coatings correctly to avoid wax buildup. 
Hardwood flooring can also show wear and tear quickly, especially in high-traffic areas of your home or business. Furniture can create scratch marks and mar flooring. One way to protect your flooring from excessive scratches is to put furniture on moveable protective padding.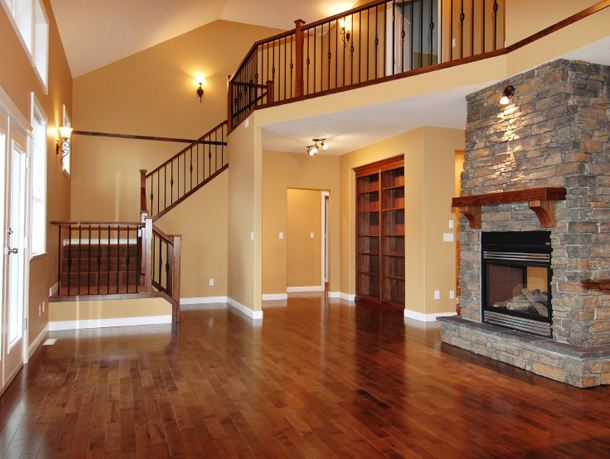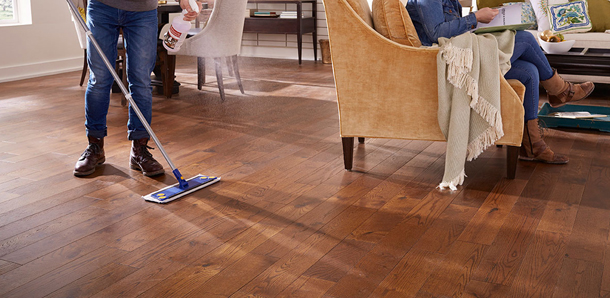 Colder weather can cause the flooring to crack or gap in unwanted areas. As a home or business owner, you can help prevent this by keeping your home adequately heated and investing in regular hardwood floor maintenance service from J & B Cleaning. Generally, it is a good idea to have your floors refinished every three to five years, depending on their condition. 
We know, life can get messy. When life gets messy, your hardwood floor can take the brunt of the damage fast. Hardwood floors can sustain spilled foods and drinks every day, which causes wear and tear over time. While regular dusting, sweeping, vacuuming, and mopping initially reduce damage to your flooring, in the long run, it isn't enough to keep them in pristine condition. 
The J & B Difference in Flooring Maintenance
When you work with J & B Cleaning Services, you'll get an experienced technician. We only use the most superior, safest equipment when working on your floors. After an initial meeting with you, we will customize a plan of action to treat your flooring. This plan will be based on your flooring's current state. If a new wax coating is required, we will find a suitable grain and color. 
Our trained technicians will get to work restoring your hardwood flooring. We offer 24/7 emergency services so that you can count on us anytime! With our streamlined process, you get durable hardwood flooring maintenance that will last a lifetime for an affordable price.
Our multi-step process ensures quality control on every flooring call we handle. 
First, we'll conduct a detailed inspection. We learn what type of hardwood your floors are made of during our inspection and jot down any initial issues or damage. Next, we mix up the proper cleaning solutions for your property's flooring. Then we move furniture out of the way, followed by initial sweeping and vacuuming procedures. 
Then we bring in specialized equipment to clean your floors. During our service call, we will use trusted hardwood floor scrubbers. These machines are designed to reduce scratches to your flooring and properly remove dirt deep in its crevices. By using hot water extraction and the safest cleaning solutions, we can clean large areas fast. 
Before we leave, we always ensure you are 100% satisfied with the results of your hardwood flooring cleaning. Our final inspection also makes sure that we have not missed any damaged areas. At the end, we ensure your flooring is dry with gentle cloths and quick-dry fans. 
Hardwood Floor Maintenance Backed by Certifications
J & B stands for the best service you can find across New York. In addition, we have the proper certifications and highly-acclaimed memberships to back up our service. 
Our certifications and highly-esteemed memberships include:
The Institute of Cleaning and Restoration Certification (IICRC) 
Bactibarrier authorized applicator
Advanced Clean Driving Innovation (ISSA)
Global Biorisk Advisory Council (GBAC) 
Mold Inspection, Consulting, and Remediation Organization (MICRO) 
Indoor Air Quality Association membership
Better Business Bureau (BBB) accredited
Learn More with J & B Cleaning Today
At J & B, we are committed to helping our customers maintain healthy hardwood flooring in their residential or commercial properties. We are based in Nassau and Suffolk counties in New York. We are entirely family-owned and operated, with 40 years of experience under our belts. 
At J & B, you get friendly service, knowledgeable staff, and helpful tips for keeping your home clean every day for an affordable price. Furthermore, we always offer a 100% satisfaction guarantee, so you know you are getting the best service around. Contact us for more information about our services. 
Phone: 631-698-4913
Toll-Free: 888-666-1496
Fax: 631-732-4053
Email: info@jandbcleaning.com