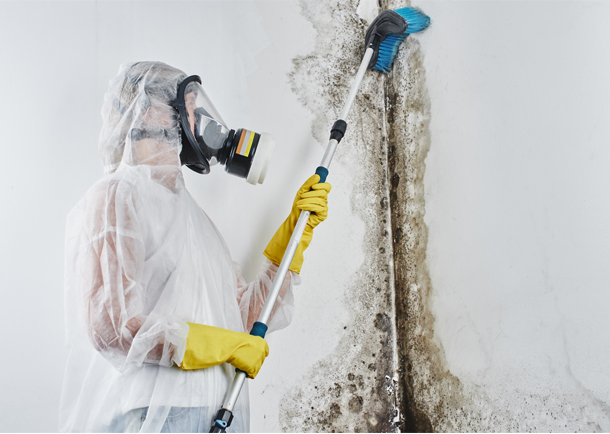 J & B Mold Removal & Remediation Services
Cleaning and Restoration Services You Can Trust!
When mold has taken over your home or business, you have a problem on your hands. Mold spores can spread within a 48-72 hour period. This means immediate and detailed action is required to keep your family or employees safe. While some types of mold are harmless, many can pose a variety of health risks to individuals. 
Call the mold removal and remediation experts at J & B Cleaning. Our insured, fully accredited, and highly trained technicians are at the heart of our mold removal and remediation services. We serve areas from Manhattan to Montauk, centralized in Nassau and Suffolk counties in New York.
Mold Removal and Remediation
Mold removal and remediation are critical at J & B Cleaning. 
Mold can be both toxigenic and pathogenic, depending on the species. As a result, numerous health risks can result from prolonged contact with mold. In addition, mold spores are airborne. This means you don't even have to touch mold to physically suffer the effects of mold exposure. There are a variety of health risks associated with mold exposure. Common health concerns include anything from mild headaches and asthma to severe respiratory problems and pneumonia. In worst-case scenarios, individuals could even die. Pregnant women, elderly individuals, children, and those who have respiratory issues could be even more at risk. 
Causes and Warning Signs of Mold Growth
Many factors can contribute to mold growth on your property. Some common causes of mold growth include roof leaks and leaks inside your home. Roof leaks can occur after stormy weather creates vulnerabilities in your roofing. In-house leaks can happen when faulty plumbing reaches its breaking point.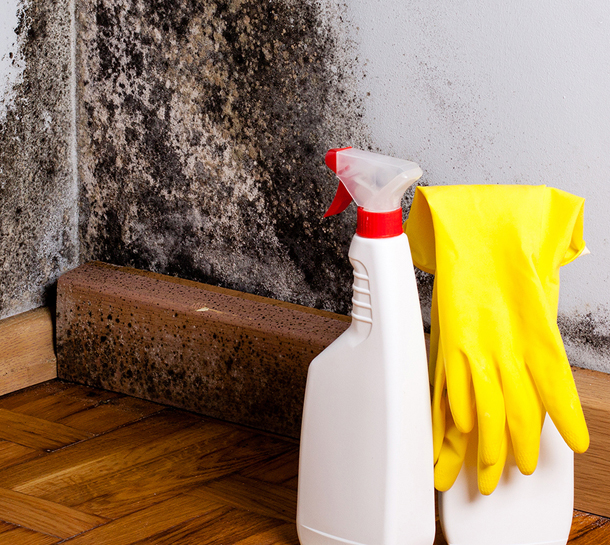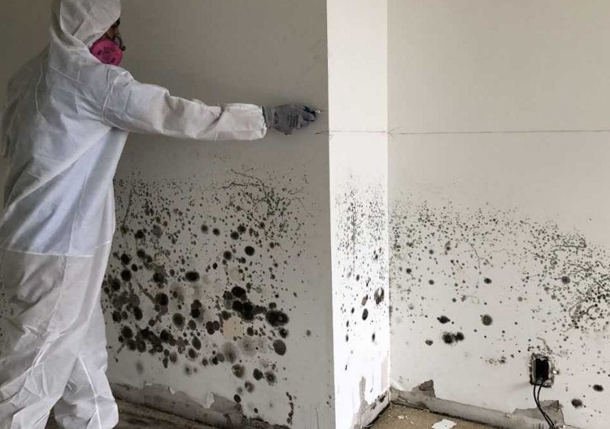 Another cause of mold growth is poor ventilation or dirty HVAC systems. In both home and office settings, regular air duct cleanings can help prevent the growth of mold. 
Since mold loves humid conditions, stormy weather and extremely humid summers are more likely to produce mold deposits. If the summer months are particularly humid, mold growth can be more likely. Mold can also grow from the flooring. Water damage usually happens at the ground level, so subflooring and flooring layers can quickly become breeding grounds for dangerous mold spores. Too much condensation or damp basements are another leading contributing factor to mold growth in both home and commercial settings. 
Lastly, insulation can be a factor in the development of mold on your property. Inadequate insulation or lack of insulation can allow moisture and heat to accumulate in basement and attic spaces. As a result, mold quickly can develop and take over. 
Mold needs particular conditions in order to grow. Mold spores can be carried into your home by the wind or through windows. Even your clothes could be carriers of spores. Because they are airborne, mold spores move swiftly and could already be in your home. With the right ingredients for mold to settle down, those spores can begin to spread across multiple regions of your home.
Mold needs moisture, dark, and humid environments to thrive. Common mold growth spots include basements/crawl spaces, attics, behind bathroom wallpaper, and cabinets. Overall, mold could develop anywhere that's damp or moist. If your property has recently undergone severe water damage, your home could be at further risk of mold growth. 
Our Process for Mold Removal and Remediation
When mold has invaded your home, you should contact J & B Cleaning. We provide effective and efficient mold removal and remediation services. Allowing mold infestations to go untreated in your home may have serious health and safety consequences. At J & B Cleaning, we offer a streamlined mold removal process. We take care of your mold problem with 40 years of experience under our belts. 
The first step in our mold removal process includes a detailed inspection of your property. In this inspection, we will locate the sources of mold growth in your home. Immediately, we will begin crafting a personalized remediation plan. We will even work with your insurance adjuster to help you handle your insurance claims. After our initial inspection, we will create a plan to remove the mold and prevent future growth. 
J & B Cleaning only uses the latest state-of-the-art equipment. We check for mold growth behind walls without further damaging your property. We even check subflooring, tight spaces, and other areas where mold may be present but not visible. Using the best HVAC systems, we will remove mold from your property. After all traces of mold spores have been removed, we will also conduct a detailed cleaning and sanitization process to leave your home safe. And we will always make sure your home is completely dry to prevent future mold growths.
Mold Removal and Remediation Services Backed by Certifications
At J & B, we understand that investing in a mold removal and remediation company might be a significant decision for you. As a result, we make your choice even easier with our recognized mold removal and remediation service achievements. 
Our certifications and memberships include:
The Institute of Cleaning and Restoration Certification (IICRC) 
Advanced Clean Driving Innovation (ISSA)
Global Biorisk Advisory Council (GBAC) 
Bactibarrier authorized applicator
Mold Inspection, Consulting, and Remediation Organization (MICRO) 
Indoor Air Quality Association membership
Better Business Bureau (BBB) accredited
Don't let mold take over your life. Contact J & B Cleaning for family-owned and operated mold removal and remediation services. Located in Nassau and Suffolk counties, New York, we service surrounding areas from Manhattan to Montauk. We offer our clients a 100% satisfaction guarantee. 
Contact us more for information about our services. 
Phone: 631-698-4913
Toll-Free: 888-666-1496
Fax: 631-732-4053
Email: info@jandbcleaning.com